3.8 Million Views - 7 Years in BlockChain - More than $1.2 Million Dollars Moved in the Blockchain.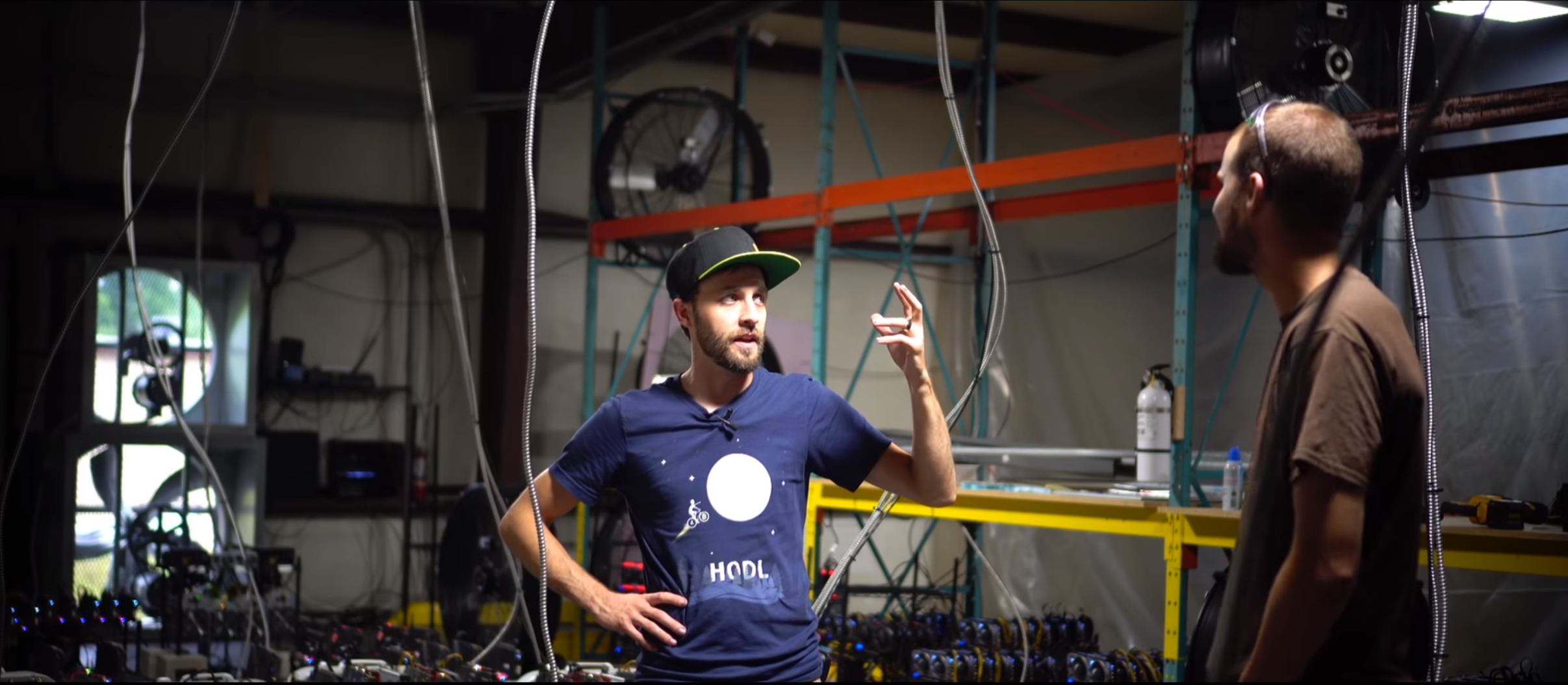 The Bit Bunker
The Bit Bunker was our secure mining facility located in Kentucky. On January 1st 2019 the facility officially closed due to the turn in the market.
Evaporative cooling wall
We take fresh, outside air and force it through these pads soaked in fresh, fast-moving cooled water. The air is cooled as cold as 20 degrees from the outside. This chilled air is then forced over your low sitting rig to keep it as cool as possible. The efficiency of this wall is remarkable. Standing in front of it makes it feel like you are wrapped in a blanked of cool air.
NO MORE HEAT
Two exhaust fans are constantly pumping out heat. These amazing units never rest as they require every inch of the building to air all 36,000 cubit feet to be recycled with fresh air from that wall every 40 seconds. Your rigs are breathing like no other place as the lungs of the building cool them every second of every day.
Back up
With terabytes of data being moved out of the bunker to the world, we take back up lines very seriously. We have fiber as the main source, cable as a back up line, and multi-cell powered for an emergency. We spare no expense and run only Cat 7 cables to every rig. Our up-time currently sits at over 99%.
ThoUsands of gallons
The reason we move so many gallons is not because we are controlling leaks. It is because the water left over not being evaporated is replenished by 58 degree water in a 150 gallon reserve. This system is controlled remotely and programmed to a smart switch which talks to multiple water leak detectors to immediately shut off the system in case water were to make its way on the floor.
Power
In June of 2018 all prior cans on the pole outside were replaced with a brand new 50KVA. Supplying more power on 2 separate lines via single phase and 3 phase lines. These units are only the start of how much more power can still be added to the current building. We live monitor the power to adjust better performance daily. As demand increases so does the supply.
Electric
Electric is the biggest challenge and greatest expense. To power over 300 GPUS and 16 ASICS it requires more electric than a small town of 70 households combined. We custom plan each and every pipe, wire, and breaker to match the perfect fit so your rig runs better and longer. Your unit will run on 240v without exception.
Mining Facilites
What if you knew a way to get to the best mining farm option there was to best fit your needs? This can be custom tailored to you or be built to scale. Any size from your garage size, data center, to a gigawatts of power custom built for your hundreds of thousands of units.
Billion Dollar Join Venture
Thats right Digital Gold is connected to a Billionaire Client that is ready to build in your location. He will add power, lease or purchase, set up buildings and infrastructure. You just need 3 things. First: Located in North America. Second: Have available Minimum access to 10MW Third: Price per kWh needs to be at Max $0.03 If the price is not currently that low would a multi-million dollar investment get it that low? *Currently on hold in this market*
Eastern Pennsylvania
This is the most custom location for medium to semi large scale. Brand new 1,200AMP service installed. Gigawatt substation within 1 mile, 23 Acres, grandfathered low-head dam, rated for 2- 10' propeller blades for wind, Register as clean and green certified organic certified farm, 18,000sqft facility on site. 15,000 Gal Geothermal cooling. Roof and field Solar quoted, Owner is a private businessman of 30+ years currently runs his own mining farm.
Western North Carolina
Currently under private only contracts. Also at capacity, has 73 acres fenced facility. 2 substations on site, powered by a dam a few miles away. 100+ Megawatts of power. Owner is a multi-billionaire with unlimited connections in the tech field. Request below to get notified when space is available.
Western New York
Built over the last 5 years in multiple facilities is now hosting some of the cheapest power on the East Coast is in production of a large scale operation powered by hydrostation 400K sq ft of space owned and operated by a private business owner. This space will fill up fast so please get your quotes in.
Utah
This is a private farm that has handled multiple large scale clients. not only currently but moving them in and out. This also has limited space and very private the contact is behind 3 layers of individuals.
Cental Indiana
This is a private farm that has over 7 MW of power. Currently can hold 500kw Available right now. Has a built out capacity to a large scale options. Access to 2 full time techs 24/7 Support. Currently a private farm but willing to sell or host large amounts of GPUS.
Who are you?
Do you have a facility that you want to be listed here? All contacts are screened and asked to prove there location and business model.